D J Coolbear is the trading name of me; Danielle Coolbear Jenkins - yes Coolbear is my name and D & J are my initials - if I used my full name or all my initials it wouldn't be as catchy.
I started building this website in April 2011, just before my 29th birthday. I started this website as a one stop shop: a place to blog, provide tutorials and show my handmade wares for sale (also as a means to keep me off Facebook...), the shop is yet to be stocked, and will be more focussed on English Paper Piecing Supplies than my handmade wares. - Update: We are awaiting the arrival of a very flash laser cutter and will be creating a line of EPP related wares - papers and templates - including custom cutting! These will be available over at www.coolbearandcompany.com from early 2017.
When I started the blog: I'm a Kiwi expat stay-at-home mum to three boys under the age of 5 baby number 3 arrived in June 2011 as with his brothers he was born the day after his due date - unlike his brothers he didn't take his time; labour was only about an hour - enough time to drop the other 2 off and get to the hospital, home is a 130ft Peniche (french equivalent of a dutch barge) in the East End of London (currently on the market - anybody looking for a project?). All sounds very romantic - but we are renovating it ourselves (and as we keep having babies) not as much has been done as could have been. We is me and my husband Al - who has a degree in Marine Archeology and is a qualified wooden and composite boat builder but who is currently a Hardwood Floor Layer/Finisher for a prestigious flooring company (they hold the royal warrant).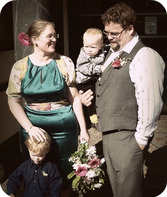 I come from a family of very crafty women (and men) and was taught to knit by my grandmother and mother when home ill with tonsilitis, was taught how to make bobbin lace (twice) by my other grandmother, and when a teenager made a porcelain doll . I was introduced to patchwork by my mother at the age of 9 and haven't really looked back - the initial piece I made was as part of a challenge set by the house group that my mum belonged to at the time the 'Block Busters' for myself and the daughter of another group member to make a wall-hanging - the machine-pieced and hand-appliqued result of which hangs on one of the walls in my home.
My next effort involved a hand-pieced over paper (English paper-piecing) nine patch - also a wall-hanging and the jumping-off point for my next project which would take 15 months to complete including the hand-quilting - a six-foot square quilt comprising of all 1-inch squares. The quilt was entered in the NZ National Quilt Symposium and won a prize in the junior category and I received a mention in the editor's column of NZ Quilter magazine.
From there started an obsession with english paper-piecing (and not a hexagon in sight - although I have now made a few hexagons for a tutorial) which became a running joke and source of fascination at the Wellington Quilters Guild of which both my mother and I were members.
People were always commenting, as I was hand-sewing (including on an Interisland ferry), that I must be very patient but the truth is I'm not and this led to my further developing my patchwork to include miniatures - as I could be rewarded with a finished piece a lot quicker - using the same skills and concepts. My fabric stash also benefited from this development as it meant the use of less fabric - and as a poor student with quite an expensive hobby it was important to make the fabric go as far as possible - and still leaving me with a vast quantity of fabric to stroke.
Making miniatures is also a useful hobby now as having small children I don't have as much time to sew as I used to - and I'm able to finish blocks or individual pieces within a day or two as opposed to up to a week for the larger blocks and even longer to sew a complete quilt top together (dependant on size).
In February I became a member of the newly formed London Modern Quilt Guild and I am acting as the Charity Co-ordinator: We are aiming to make 20 small quilts for the CHATS dept at Great Ormond Street Hospital.
I have also created Can't Grow a Mo' Sew a Mo' in memory of my birth father who lost his fight with prostate and secondary bone cancer in February of this year - I am aiming to have a bee quilt raffled off by the end of November - benefiting Movember charities and Mary Potter Hospice (Wellington, NZ).
Well that is more than a bit about me; which relates to another thing about me - I don't half waffle.
Update November 2016: 3 years and another 2 children later; we now have 2 daughters; E is 3 and a half and G is 3 months - our eldest son J is now 9, A is 7 and L 5. We have been back in NZ for the last 2 years and live in Whitby, Porirua with a gorgeous view of Pauatahanui Inlet. We still own the boat and are converting it into 3 flats. We can't seem to get away from nauticalia! You can find my new business venture over at www.coolbearandcompany.com: I am the New Zealand distributor of Soak Wash, Inc products - but also have the products available for direct sale.
I haven't had much time for EPP in a long while but it is still my passion and I love seeing how addicted many quilters have become with it over the last few years.
Danielle
See The quilts that live at my house for photos of my first patchwork efforts and quilts made by members of my family.
Feel free to contact me: either through Contact Me or at [email protected]