How I'm spending the Jubilee Saturday...
Posted on
Next Saturday - the first day of the Jubilee long weekend, I will be ignoring the Jubilee, abandoning my family and heading to South Kensington to immerse myself in Quilty culture.
As a precusor we are having a linky party:
So a bit about me: My name is Danielle Coolbear Jenkins and yes Coolbear is really my surname and so unique I kept it when I got married almost 2 years ago, there are no young male Coolbears left in my family so my 3 sons all have Coolbear as a second middle name. I'm a Kiwi and have lived in the UK 6 and half years with my British husband and for the last 4 we have lived on the River Roding (in Barking, East London/Essex) on our partially converted Peniche - a French version of a Dutch barge. We have 3 sons - J 4.5, A 2.5 and L will be 1 on the 22nd of June.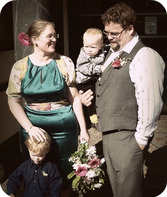 This is what look like on a really good day - I look more like the photos on the LMQG blog - that's me in the bright orange t-shirt at the first workshop at Lucie's or in green from Aneela's post about her first meeting.
I have been making patchwork (I hand quilt, but don't do it very often) since I was 9 and have been obsessed since I was about 15 - so I have spent the last 15 years obsessed over English Paper Piecing and the last few years making EPP miniatures, it has taken me 15 years to get around to making any hexagons (intentionally anyway). Back in New Zealand I was immersed in the Quilty world as my mum and the majority of her close friends are quilters as was my grandmother (and my sister-in-law and mother-in-law), but up until this February when I joined the London Modern Quilt Guild I have been stitching in isolation.
I am looking forward to spending time with other members of the LMQG (we will all have LMQG badges so you will know who we are), and meeting everybody who I have been blog, flickr and twitter stalking.
I am bringing the EPP quilt that I started to make for my niece 6 years ago - which has been a finished top for 5 - so I can baste and start quilting it, hopefully to get it finished for her for Christmas. And maybe also my Kate Spain Good Fortune Layer Cake (my favourite colours are purple and orange) to start working on a quillow for myself (I have yet to decide on the design).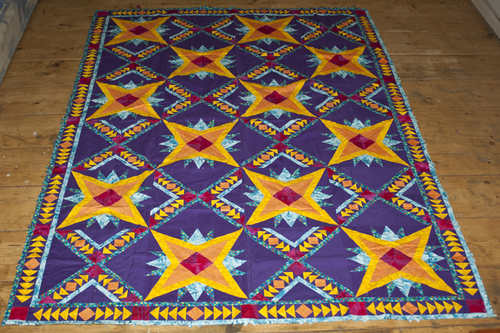 Looking forward to meeting everybody!
Danielle