Sunnyish start to August...
Posted on
It's August 1st and yet again it's Fresh Sewing Day with Lynne over at Lily's Quilts.
This month I have made a few things – including 2 blocks for the EEEEP EPP Bee, for myself as I have gone first. I have so far received 2 blocks back and know that another 2 have been finished - there is still a month left until the final return deadline, but I'm very excited to get the rest back. I'm also looking forward to making the blocks for all the other Bee members. I also finished piecing the block for the LMQG Challenge for the July meeting - inspired by Modern Art, inspired by a piece by Balla; Circular Planes. It is of course EPP'd and was a bit fiddly with all the curves and a couple of inset pieces.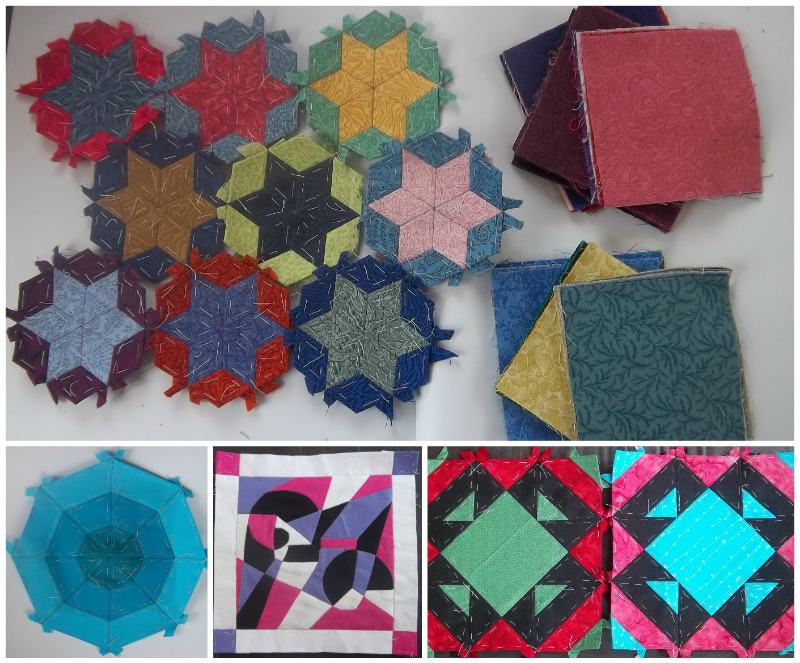 I have put the Good Fortune blocks that I was making aside and pulled out two 50 piece charm packs of Jinny Beyer – I am aiming to make a star block (really a hexagon) a day – so far I have made 9 some days not making any and some days I've made 1 1/ 2 to 2. I'm not really sure what I'm going to do with them, it will probably become another top to add to my UFO pile.
I have made a start on my Sandown Entry - having found a photo on Flickr that has inspired me to make something very Modern - using only solids and grey, but still staying true to my EPPness. If I say that it involves a Walter anybody have an idea what it might be? (You will have to be a bit of a Sci-fi geek)
I have done some machine piecing, using the fabric gifted to the LMQG by Thomas Knauer for use in making quilts for charity. We are still to settle on a charity to give the finished tops to but we have a few possibilities all involving children. I enjoyed working on Michael's gorgeous and fast machine with a ¼ inch foot – so much that I am thinking about getting a ¼ inch foot for my little Elna.
I will need to get my machine out in the next few weeks to make some Moustache blocks for my next charity project – making a rouge's gallery quilt to raffle during November to benefit Movember and Mary Potter Hospice (Wellington, NZ) in memory of my birth father who died from prostate cancer in February – see Can't Grow a Mo' Sew a Mo' for more information.
I do of course need some help to make blocks – basically they can be square or rectangle blocks of any size up to 12 inches (12 ½ inches with seam allowances) with a moustache appliqued in the centre made from cotton, faux fur, or felt (or whatever you'd like) surrounded by a frame – for the gallery look.
The deadline for returning the blocks to me (if you want to take part please let me know – and I will send you my postal address.) will be the End of September to give me enough time to get the top pieced, and quilted etc in time for the beginning of November to start selling raffle tickets.
August is a good Quilting related month – I thought I was going to have to miss the LMQG meeting this month, but plans have been changed and I will be at the meeting with bells on – spending time with the LMQG is one of the highlights of my month.
I have also bought my ticket to the Festival of Quilts for the Sat and have booked a table seat on the train both there and back so I can get my EPP out. The LMQG are also having an evening out with Tula Pink which will make 4 fabric designers we have met through the Guild.
The other highlight to my month - yesterday the cushion I made for a Fat Quarterly Designers Challenge was published in Issue 10.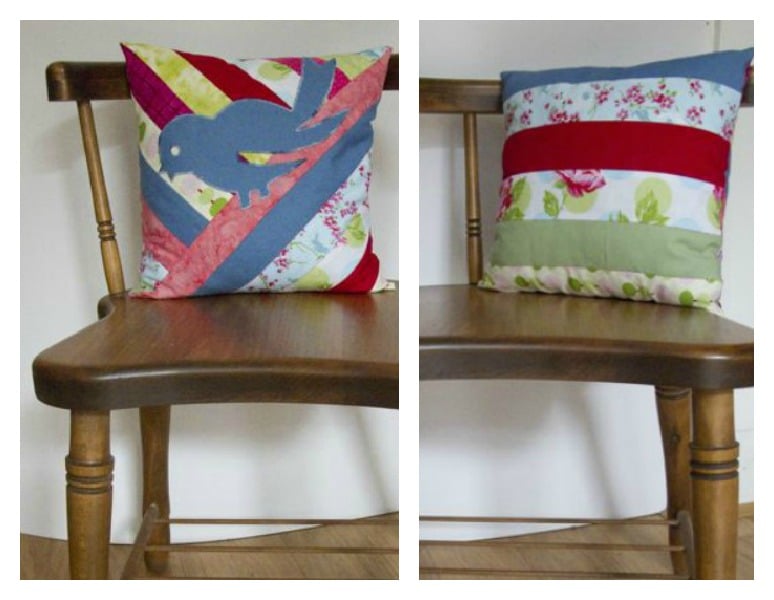 (Photos by Charlotte Newland)
Now to decide if I'm going to make something for the LMQG challenge for this month's meeting - What London means to me... I only really have 2 days to do anything and having though about it for most of the month and thinking I wasn't going to be at the meeting I haven't got any definite ideas.
Danielle