Stash Building...
Posted on
To be honest I don't really need to build my stash - more update it. I have mentioned before I have a big stash - but a lot of the fabric is over 5 years old or more, some pieces are possibly 15 years or more years old. I one day aspire to have a fabric storage system like my mum's - an old library catalogue cabinet (she is an information manager and was a librarian for many years) which is the perfect size for neatly folded fat quarters. But I just have to make do with my current large plastic box on wheels. I am eyeing up one of these: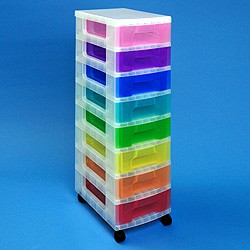 Or similar for my new sewing room. The walls of my sewing room are in the process of going up - there is a framing wall which contains built in wardrobes on the other side of my ironing board and the hall way wall of the boys room is being screwed together as I type and then it will be on to the hallway wall of my sewing room and then the wall which will have bi-fold doors onto the new kitchen/dining/family room, so I can sew and keep an eye on the boys the same time.
I have decided to indulge my love of Purple and Orange and have wallpaper on one wall: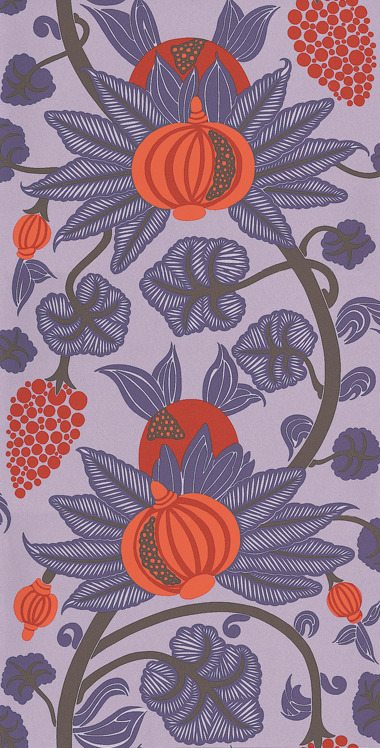 I have had my eye on this wallpaper for a couple of years and thankfully it is still available. It also comes in a gorgeous combo of Blue and Rasperry.
...
Anyway back to my stash - I have been buying quite a bit recently including last weekend following the LMQG meeting at Liberty, though I didn't buy anything at Liberty. Before the meeting I received my hand-delivered Village Haberdashery Order from Annie which consisted of two bundles I have been coveting for quite a while - I had added several more things to my basket but decided to be restrained.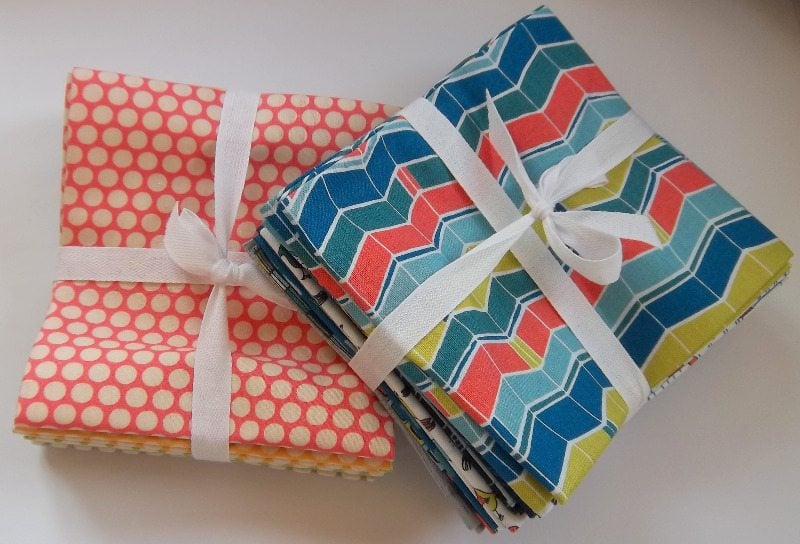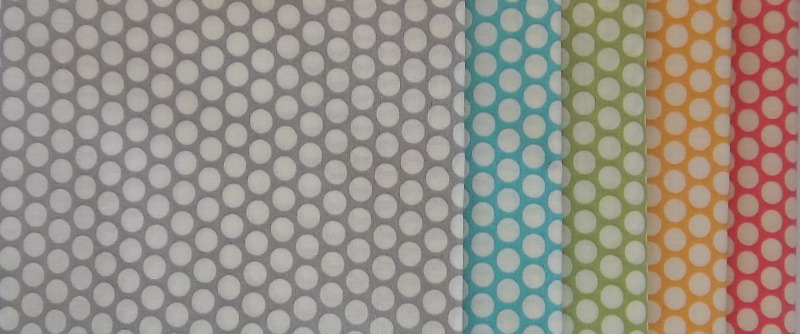 Kei Honeycomb Dots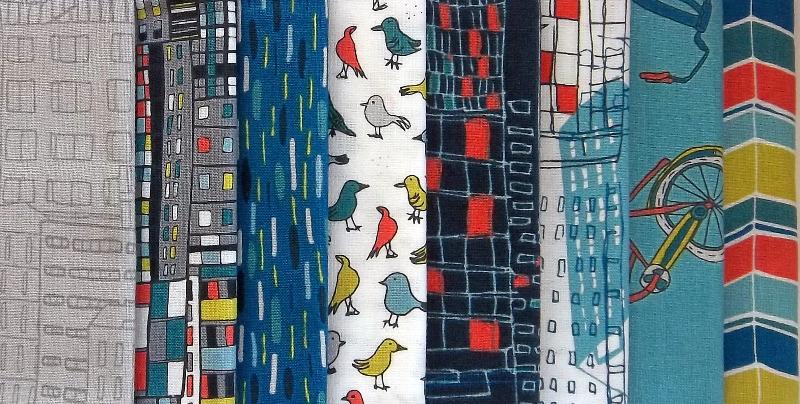 Velocity by Jessica Hogarth
Afte having lunch with the rest of the LMQG - unfortunately at 2 separate tables - I headed to John Lewis mainly to buy some Gutermann thread (they thankfully stock it again) but spotted in amongst the Westminster/Free Spirit fabrics a bundle of Ty Pennington's Impressions, as well as the Dotted Leaf in Lime from Denyse Schmidt's Chicopee, unfortunately they didn't yet have any of Tula's fabrics in stock, otherwise I would have bought even more.
| | | |
| --- | --- | --- |
| | | |
The Ty Pennington range is based on wood block prints and I love both the motifs nad the blues and greens - I'm not all about Purple and Orange.
Back at the previous LMQG meeting in August we had the opportunity to buy discounted stock from Tricolette before the shop closed - I bought a few fat quarters and even more half metres.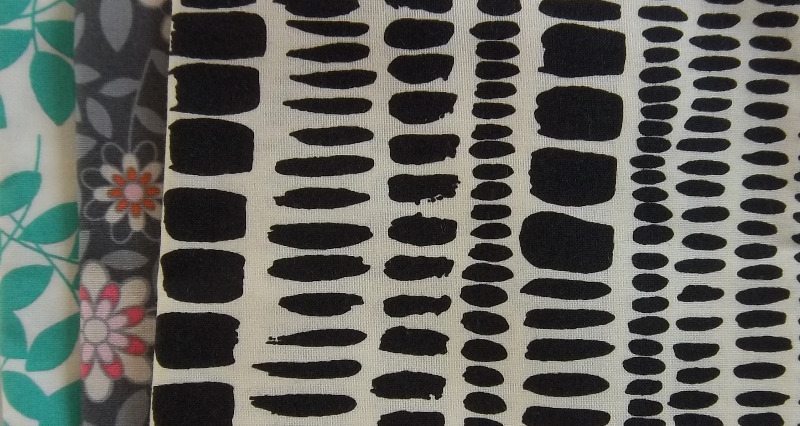 Some Momo Half Moon Modern leaves, Jenean Morrison's Silent Cinema and some of Lucie Summers Summersville brushstrokes.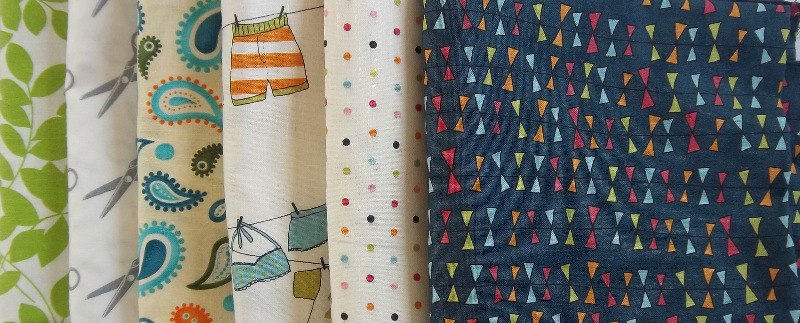 More Momo Half Moon Modern leaves and scissors, a small paisley in aqua from Sassy by Sandy Gervais and some Lucy's Crab Shack.
I don't as yet have any plans for all but the Half Moon Modern scissors - which I think I will make into a couple of project bags.
This last week I have received a lot of Mo' blocks - it would be great to get some more (hint, hint) so that I can get on and start piecing the tops together, though I have yet to decide on what I'm going to use for the sashing - I want something that looks lke wallpaper, so I will have to put my thinking cap on...
I also received a parcel containing fabric to use in the September blocks for the EEEEP EPP BEE, I am enjoying the Bee so much and anxiously wait for the next block to make, I got both blocks finished within the week. So I'm now getting a crack on with my Sandown Entry.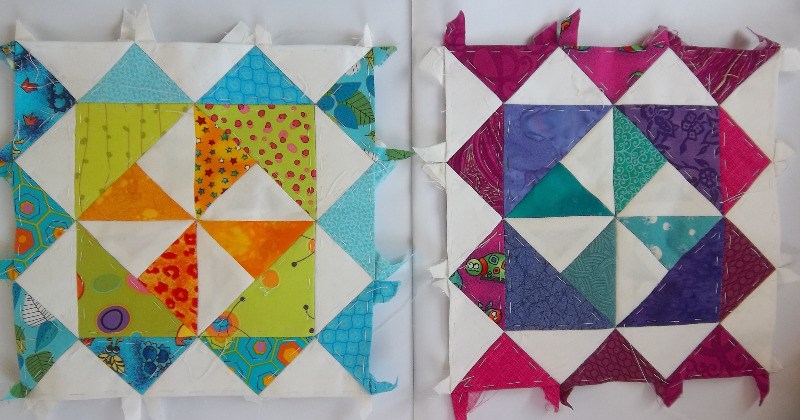 September EPP Blocks
| | | | |
| --- | --- | --- | --- |
| | | | |
Entry for Sandown - any guesses what it might be?
Hopefully I can get on and get a lot of it done in the next few weeks - J starts school tomorrow tho' only for half days for the first 2 weeks. I do of course have a few other things to be getting on with too - some product development, Can't Grow a Mo' Sew a Mo' organisation including ordering the screens for printing the backing fabric for the quilts and leaning on my mum for photos of the Mo' blocks she has received for her quilt (12 from one person were received at her Guild meeting on Thursday night). As well as forward planing for several other projects - and of course housework including dishes; since our dishwasher has been broken for the last month.
What are your plans now the summer is over?
Danielle